I'm so excited about my latest project! Inspired by
Ali Edward's
"December Daily", I made a mini-album to document the daily happenings in December. What really resonates for me with this album is that 1) it is made out of supplies I
already had
in my stash and 2) it allows me a lot of flexibility. This is another great example of how scrapbooking, like any other art, should be fun and stress-free. I didn't try to make my album look like Ali's (or anyone else's)--I just took her idea and made it my own and it is one of my favorite projects so far.
I'll be adding notes, small photos--whatever I want--to each day's section of the album (and I'll post the results here on the blog every couple of days). If I end up with some great photos I may add pages or even just print a photo and have it become a new page all by itself. Some pages I may just have journaling, etc. The fun in this album is that I have no idea yet where the journey will take me! :)
I don't love making Christmas pages generally so I don't have a ton of actual themed product in my stash but I found lots of generic stuff that worked. The first thing I found was this great textured red paper with rough edges and gold thread...I'm pretty sure I have had it for a few years. I cut it up to use as the front and back cover and even had enough for some of the interior pages: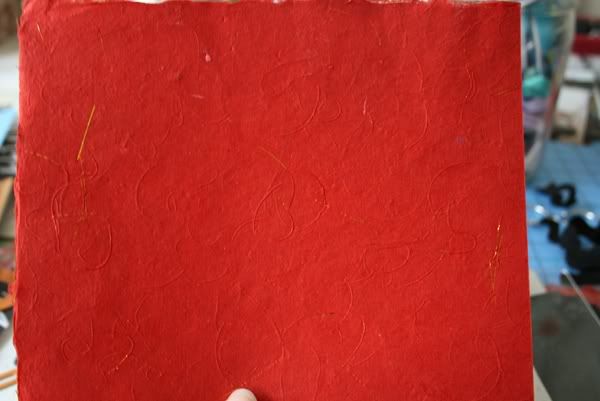 Then I began gathering all different supplies to use for the rest of the album. Here are all of the pages:
Days 1-3:
This is a page designed to hold business cards. I added number stickers and a clear acrylic star which I edged with red Stickles (glitter glue). Originally I tried to staple the acrylic star on but my stapler isn't strong enough so it is adhered using Glue Dots...they are visible but just barely.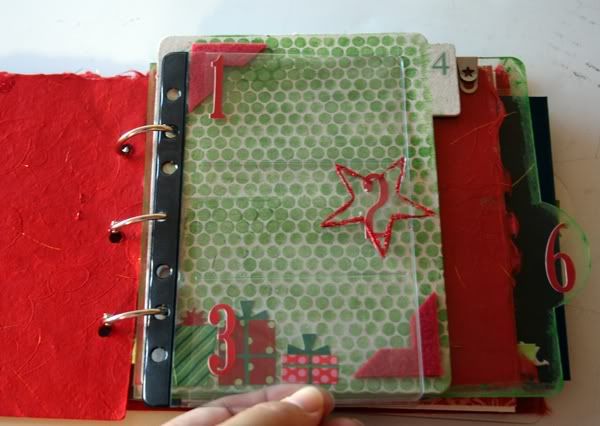 Day 4:
One of my favorites...this is a tabbed chipboard page from a Scenic Route album. I used sequin waste (also sometimes called "scrim") as a mask for painting. Sequin waste is fantastic stuff introduced to me by my
oh-so-creative friend Beth
...those of you in AZ can find it super cheap (a few pennies per yard) at
Mystic Paper
in downtown Mesa. Then, I added some stickers, felt photo corners by Close to My Heart, and a number sticker on the tab.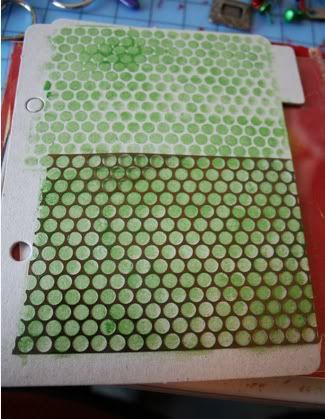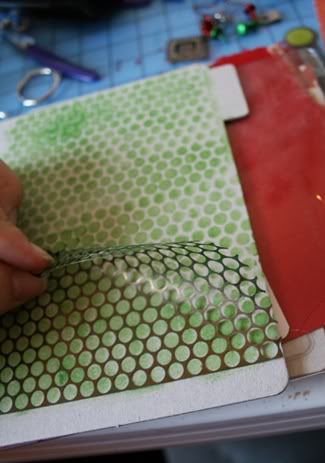 Day 5:
Super simple...backside of the chipboard...just added stickers.
Day 6:
A leftover page from a tabbed acrylic album. I painted the edges with green acrylic paint, added the number, and slipped a star clip on the top.
Day 7:
Here you can see some of that fantastic red paper again. I stapled an over-sized playing card to it which functions as a whimsical embellishment and my number.
Day 8:
Another favorite page. This is the backside of Day 7. I found a vintage matchbox cover in a stash of cool stuff that
my sister-in-law Gina
gave me. I cut it in half, stapled the number "8" to it (which is cut from patterned paper), and stapled the matchbox to the paper after stapling on the green ribbon (the metal ribbon slide is an old, old Making Memories one).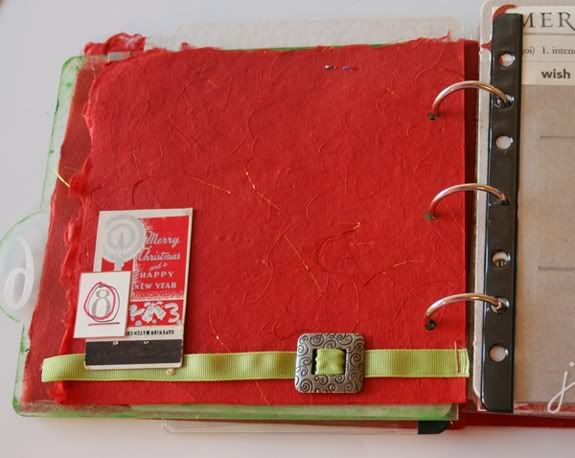 Days 9, 10, 11:
Another business-card holder with stickers and a "jingle" rub-on added. My number "11" at the bottom is actually two lower-case letter "l"s...it's awesome when I can be creative in the use of my leftover letter and number stickers to make it work for my project.
Day 12:
Another chipboard album page with word stickers, felt embellishments, and a red gemstone-style brad which I adhered with a Glue Dot after cutting the prongs off.
Days 13 and 14:
The music is from an old, used-up piano primer and glued to a square of double-sided patterned paper (you'll see the other side of the patterned paper on day 15).
Days 15 and 16:
Day 17:
I used a Glue Dot to adhere the fancy paper clip which I used as an arrow to point to the circled number.
Day 18:
More chipboard, stickers, and Stickles. See how fun and easy this is?
Days 19 and 20:
Not sure where I got the black page from but I am using it like a pocket. The stars are ribbon stapled to the page.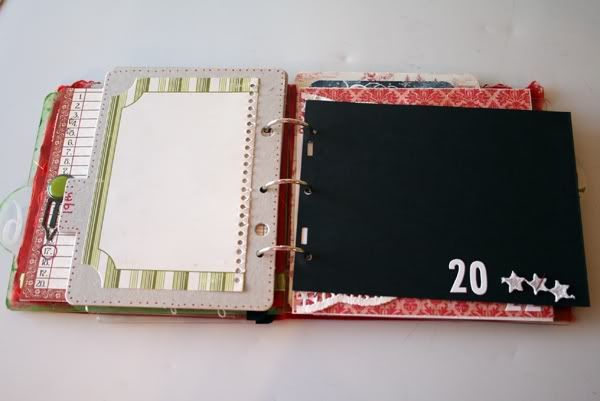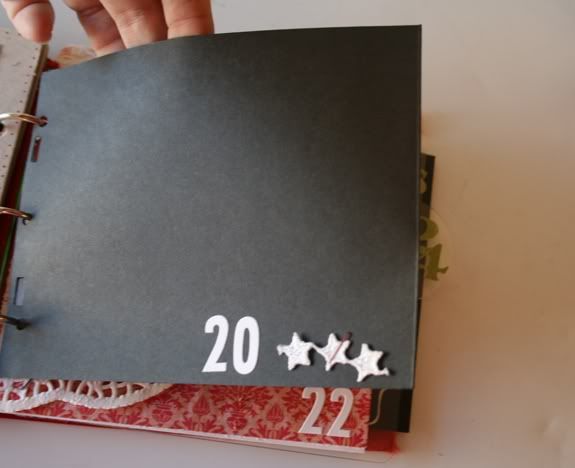 Days 21 and 22:
More number stickers and a paper doily, cut in half and...yes, stapled to the patterned-paper page.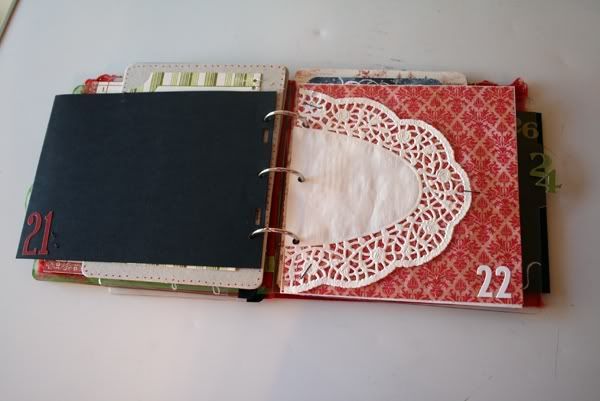 Day 23:
Day 24:
This is another acrylic page. I used a star-shaped paper clip to loosely attach some red sequin waste for now...not sure what I'll be doing with this page since it is Christmas Eve...

Day 25 (Christmas):
The last of my tabbed chipboard pages covered completely in some Christmas Toile paper from my stash...I'll probably add pages here but, again, not sure.
Day 26: Stickers and rub-ons.
Days 27 and 28: I got more and more basic the later it got last night. :) Stickers and paper.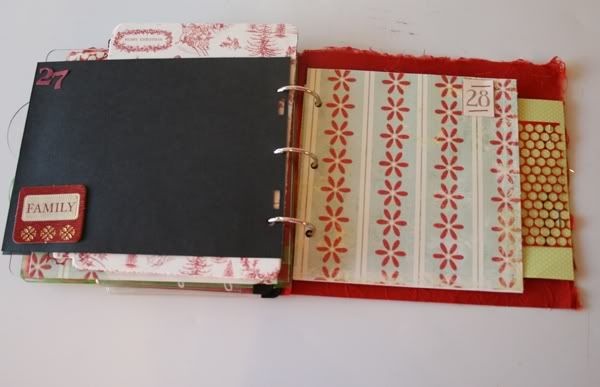 Days 29 and 30:
More sequin waste. :) The "30" is cut from patterned paper and adhered to the back of a playing card. The green "paper" with polka-dots is actually packaging--the thin cardboard from a pack of stickers.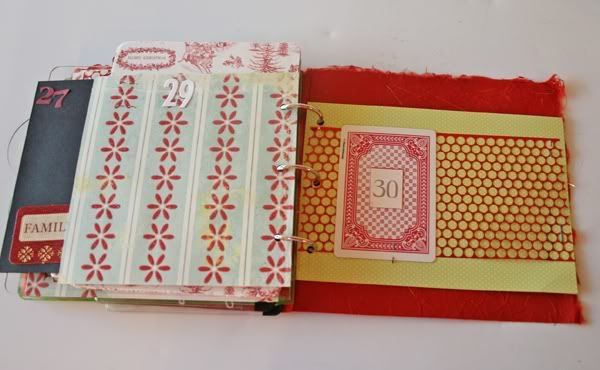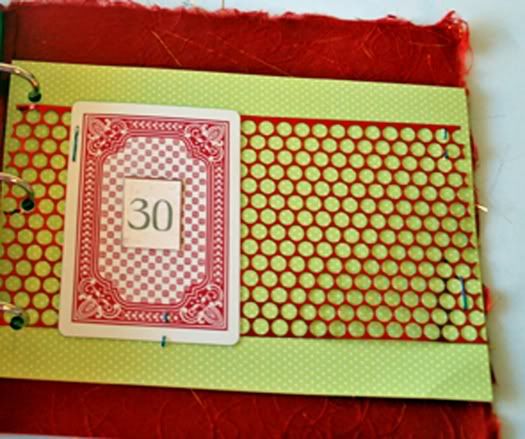 Lastly, Day 31:
I'm really looking forward to adding pictures and seeing what the end result will be. And I would love to see your version or another holiday project that you may be working on!